"I've given my heart to the nation," Lee Teng-hui told a banquet hall of enthusiastic supporters in Los Angeles. June 24, 2001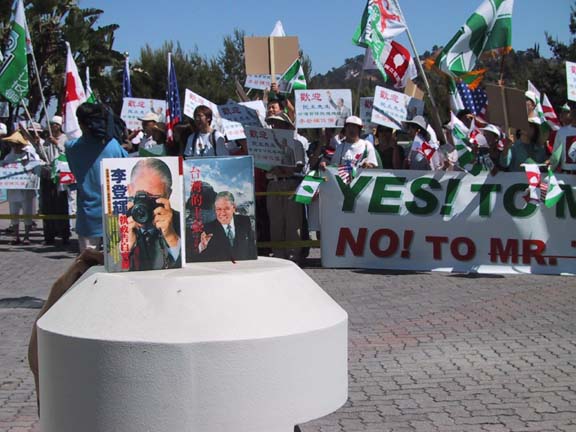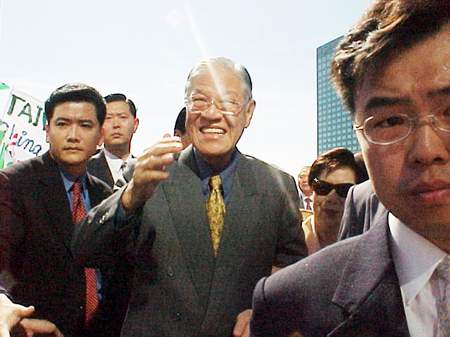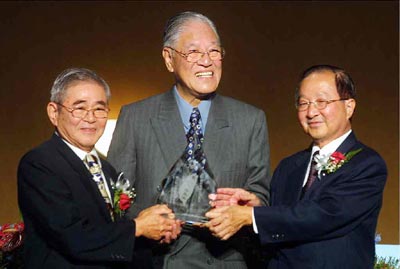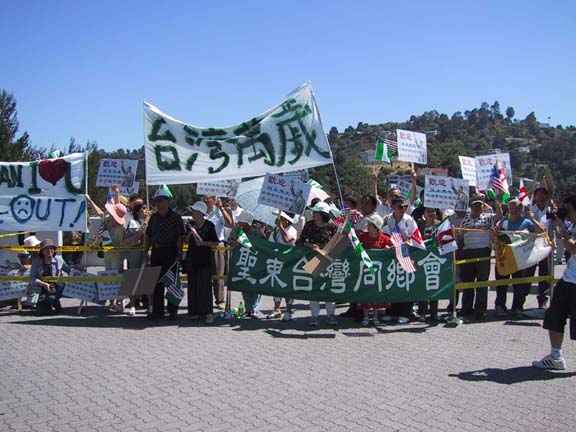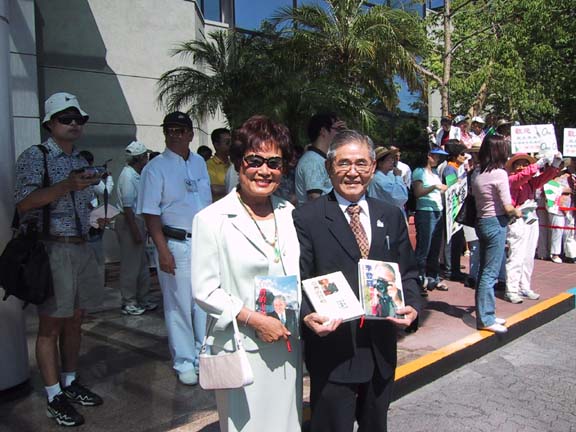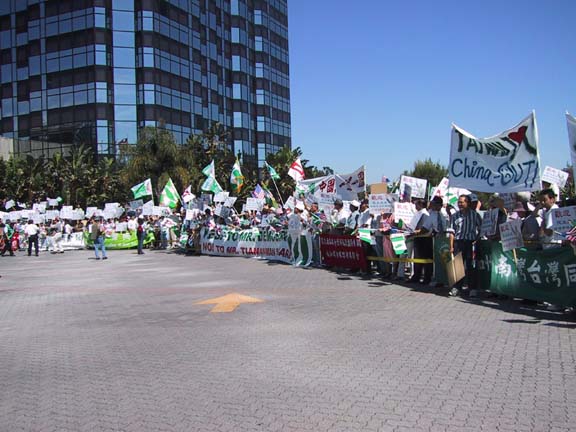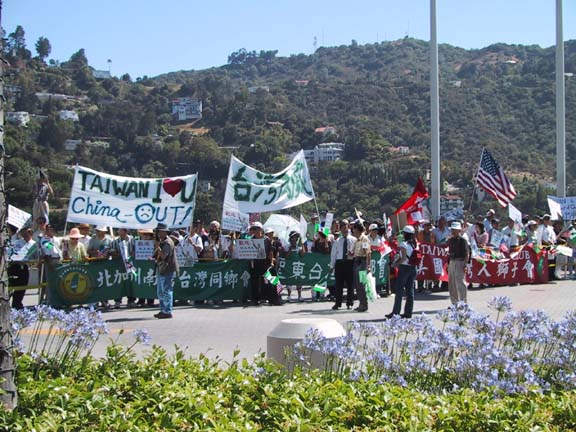 "There are many people who criticize me every day -- just let them. I've given my heart to the nation," Lee Teng-hui told a banquet hall of enthusiastic supporters in Los Angeles yesterday. "Taiwan's freedom and democracy can never be forsaken."
Lee urged the roughly 1,700 overseas Taiwanese in attendance to rally behind Chen so that Taiwan can continue to prosper.
"Taiwan is going through a transition in its economic and political development. We should give [Chen] some time. You can't ask an inexperienced child to run before he learns to walk," Lee said.
"Someone who was defeated [in the presidential election] has been holding Chen back. Let's all advise Chen on what to do instead of dragging him down," Lee added.
The former president also criticized the KMT-controlled legislature for failing to pass laws that would facilitate the DPP government's rule.
Though Lee had told reporters a day earlier that he is in retirement and had no plans to form a new political group, he suggested in his speech yesterday that he may be ready to get back into national politics.
"As long as Taiwan's economic downturn continues, I won't retire," he said excitedly.
Many suspect that Lee plans to encourage his loyalists to leave the party ahead of the legislative elections in December and form a coalition with members of the DPP. Such a move could devastate the KMT.
Lee called on asked attendants of yesterday's banquet to find opportunities to invest in Taiwan, but qualified his remarks by saying he spoke as a civilian and not on behalf of the government.
Lee's speech was punctuated with enthusiastic applause from the audience, who gave him a standing ovation and shouted "Go forward, Taiwan and Lee Teng-hui!"
They then sang a Taiwanese folk song: We can win only if we fight.
A few dozen protesters waited for him outside the banquet venue, waving signs showing support for a unified China and accusing Lee of corruption. ``Go home Lee,'' the crowd chanted.
Before yesterday's banquet, Lee and his wife Tseng Wen-hui toured former US president Ronald Reagan's library in the morning on the first leg of his 10-day visit to the US.
They travel to Cornell University in New York today.
Meanwhile, controversy over a much-rumored political group backed by Lee continues to draw concern within the DPP.
The party's chairman and mayor of Kaohsiung, Frank Hsieh , had a private luncheon with Chen yesterday to discuss possible developments.
However, Hsieh later refused to reveal any details of their meeting, saying only that "the party will adopt an electoral strategy of joint campaigning."
Senior Advisor to the President Yao Chia-wen , who attended the meeting, told the Taipei Times yesterday that "both Chen and Hsieh supported Lee's proposal [to form a new political group] at the luncheon," refusing to elaborate any further.
Yesterday however, DPP Secretary General Wu Nai-jen , continued to express his concern that the rumored pro-Lee coalition has not yet mapped out an electoral strategy that would prevent it from encroaching on the DPP's support base.





台灣的民主政治不能放棄,李總統的願望就是看到政局穩定。

李總統在洛杉磯演講說,他每聽到「福爾摩沙,咱的夢」這首合唱曲就會流淚
總統李登輝於美國時間二十五日晚間在洛杉磯市中心朋那丘飯店與一千八百位僑胞會餐時指出,雖然有人一直在罵他,「就讓他們罵吧」,他為國家的心一直都沒有改變;他激昂的說,有人認為他在暗助陳水扁,阿扁才會當選,但是他要說,「我是國民黨主席,要死也要和國民黨一起死」,但台灣自由民主絕不能放棄。他也強調,台灣的經濟一日搞不好,他就不會真正退休。
 李登輝抵達洛杉磯的第一天,上午參觀雷根圖書館,晚間與僑界會餐並發表演講,僑胞出席相當踴躍,在李登輝的演講中,還不時拍手鼓掌。李登輝也感受到僑胞的熱情,所以講話的情緒也相當高亢。
 在僑界一百七十六桌的盛大歡迎餐會上,與閩南語歌曲「愛拚才會贏」的唱和聲中,李登輝進行大約四十分鐘的演說,李登輝說,他每聽到「福爾摩沙,咱的夢」這首合唱曲就會流淚,他曾「單槍匹馬」解決台灣的政治與黑名單等問題,是因為「人民的聲音」,叫他要拚下去。
 李登輝將當年主導規劃「主權在民」的理想,形容是「因緣際會」,自己沒想到會成為總統。他回憶,當年曾和妻子約定不參加政治,也知道目前常有人罵他不肯退休,但他說,是因台灣經濟和民主不安定,所以無法退休。曾文惠女士在旁則點頭靜聽。
 李登輝表示,常有人問他,對陳水扁總統的看法如何?他要說,陳水扁是現任總統,而他是卸任總統,「我怎麼會去批評陳水扁呢?」李登輝表示,陳水扁既然是現任總統,他就有他的權利,由選民選出,「這四年都是他的權利,大家要幫他讓國家更好」。
 李登輝話鋒一轉指出,但是有些人還是不能接受這些結果,所以在政治上造成不安。陳水扁總統上任不久,已經表現得很不錯了,他希望大家要給陳水扁時間,就像是一個小孩,他連走路也才剛學會,怎麼可以期待他馬上就會跑、就會飛了呢?他呼籲,大家不要天天只會罵,這樣政局只會愈來愈不安定。
 李登輝接著表示,他對台灣有熱情,但是現在這麼多人在罵他,他想,要罵就隨他們去罵吧,但是他為國家的心,一直都沒有改變,李總統說「我是國民黨主席,要死也要和國民黨一起死」,但台灣自由民主絕不能放棄。全場響起了熱烈的掌聲及叫好聲。
 李登輝語重心長的說,他新台灣的民主理念,絕不是要有意識形態的對立,現在有人針對他,一直問他要不要退休,他要肯定的說,台灣的經濟一日沒有搞好,他是不會退休的。
 李登輝表示,希望國內政局安定,多一些人出來協助穩定政局,也希望能夠協助政府穩定政局。台灣的民主政治不能放棄,他的願望就是看到政局穩定。最近台灣有一些人罵他可惡,但民主政治的穩定發展很重要,他也樂意鼓勵年輕人、有能力的人士進入國會。




 www.taiwanpresident.org